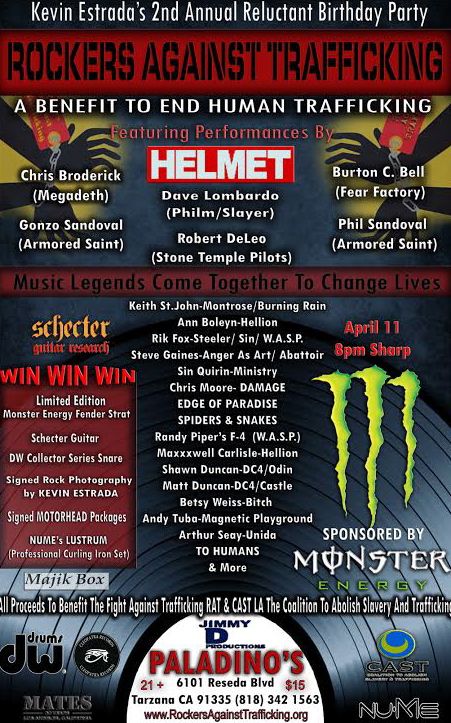 Kevin Estrada Presents:
Rockers Against Human Trafficking All-Star Benefit Show.  April 11, 2014 at Paladino's - 6101 Reseda Blvd, Tarzana, CA 91335 (818) 342-1563.  Tickets: $15.  21 yrs. and up.
Help support the cause and help build awareness and raise funds to support the fight against human trafficking here in our own country and abroad.  The proceeds from the show will be used to rebuild the lives of these young victims with housing, medical assistance, legal aid, and job placement. These donations will also be used to build and set up border monitoring stations on the borders between countries that are known for human trafficking.  
Performances by : Randy Piper's  F - 4 (W.A.S.P.) -- with Kevin Hoffman-Vocals, Joe Petro-Bass, Mike Moore-Guitar, Bobby Richards-Drums, HELMET, Chris Broderick (MEGADETH), Robert DeLeo (STONE TEMPLE PILOTS), Dave Lombardo (PHILM / SLAYER), Phil Sandoval (ARMORED SAINT), Gonzo Sandoval (ARMORED SAINT), Burton C. Bell (FEAR FACTORY), Ann Boleyn (HELLION), Keith St. John (MONTROSE / BURNING RAIN), Sin Quirin (MINISTRY), Edge of Paradise, Betsy Weiss (BITCH), Rik Fox (SIN / STEELER), Spiders & Snakes, Chris Moore (DAMAGE / CRY WOLF), Steve Gaines (ANGER AS ART / ABAOTTOIR), Shawn Duncan (DC4 / ODIN), Matt Duncan (DC4), To Human, Arthur Seay (UNIDA), and more.